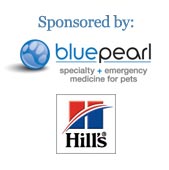 Brie Johnson Named First Annual Outstanding Service Dog Award Winner
Tampa, Florida – March 5, 2012 – The Hillsborough Animal Health Foundation is pleased to announce the winner of the first annual Outstanding Service Dog Award.  "Brie" Johnson, a seizure alert Labrador retriever that serves Ms. Marla Johnson, was the recipient of the award.  Brie, as the first winner of the award, will have a charitable fund named in her honor, and the Foundation's new annual service dog tribute will hereafter be called the "Brie Outstanding Service Dog of the Year" award.  Brie is an amazing example of how service dogs function in vital jobs throughout our community.
Dr. Nadia McLean, Brie's local veterinarian, says that "Brie is able to determine that Ms. Johnson is going to have a seizure.  While scientists are unsure how these animals are able to perceive the oncoming seizure, the fact is that Brie does detect the upcoming event.  Not only is she able to alert Ms. Johnson of the situation, she literally places herself in the right position to catch Ms. Johnson when the seizure causes her to pass out.  In one instance, Brie pulled Ms. Johnson to safety from the family pool after a seizure left Ms. Johnson immobile."  The remarkable story of Brie is both uplifting and illustrative of the importance of the hundreds of service dogs in Hillsborough County fulfilling so many important jobs, including screening for bombs and other contraband, and aiding those with disabilities as Brie does so ably.  The Foundation honors Brie and all working dogs thru this award, and uplifts and honors the hard work and dedication of Brie, a tireless example of the best that service dogs have to offer.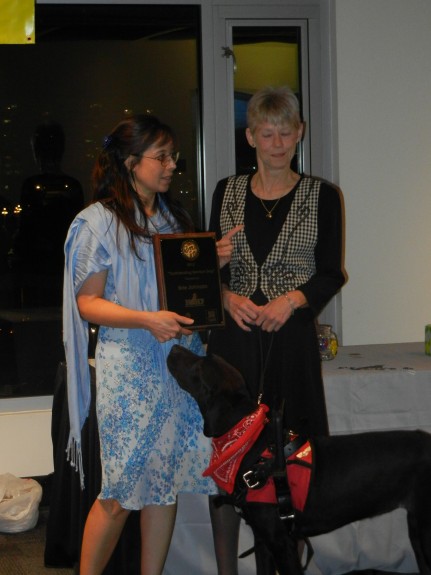 Dr. Nadia McLean (left) tells the amazing story of "Brie" Johnson who continues standing ready to assist Ms. Marla Johnson, even while listening intently to Dr. Nadia!