"Licks of Love" – 1st Place Winning Photograph
Congratulations to the winners of the 25th Annual Kids & Pets Photo Contest!!!
August 10, 2012.  HAHF and all our participating member hospitals, as well as our partner the Hillsborough County Public Libraries, want to say thank you to everyone who participated in this fun event. Many submissions were received and voting was tough as always!  Congrats to this year's winners who were honored at the Awards Ceremony at the John F. Germany Public Library on August 9, 2012!
1st Place & a $300 Savings Bond – 9 year old Isabella Kelly for her photo "Licks of Love"!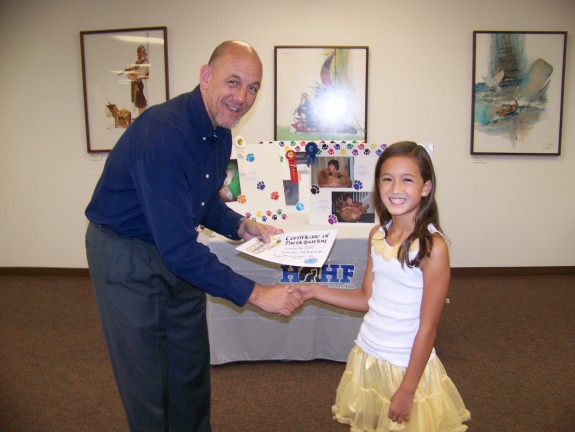 Above, Don Thompson with the Foundation honors the first place winner.
 2nd Place & a $150 Savings Bond – 11 year old Thatcher Kelly for his photo "Eye to Eye"!
3rd Place & a $75 Savings Bond – 11 year old Kevin Merrill for his photo "A Life Saved"!
Above, Don Thompson with the 3rd Place winner.
A special thanks to the Friends of the Library for kindly providing refreshments.  And thanks for all the submissions and remember to keep your cameras rolling because next year is just around the corner…And a little birdie at the library said next year might involve an IPad for the winner!